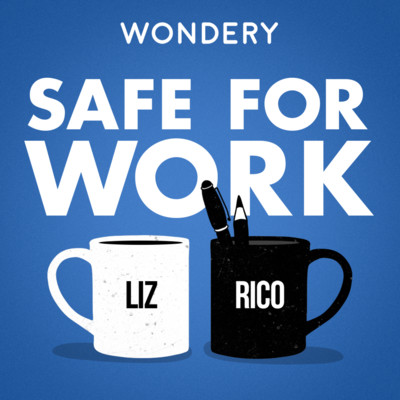 Safe For Work is an advice show that reminds you that while your office may be crazy, you don't have to be. Office MVPs and corporate veterans Liz Dolan (ex-CMO, Nike, NatGeo, Oprah Winfrey Network) and Rico Gagliano (audio host, producer, print reporter and author) will help you make the big decisions, sort through the small stuff, and get more fulfillment from your work life. If you have workplace questions and need some advice, email [email protected].
Listen for free on your podcast app of choice.
About the hosts
Liz Dolan is an experienced business leader, having served as Chief Marketing Officer at NIKE, The Oprah Winfrey Network and National Geographic Channels. Liz has been named one of the 100 Most Powerful People in Sports, Woman of the Year in Sports and 100 Most Powerful Women in Cable. While leading these major companies, she also lead a double life as a podcast pioneer, launching the award-winning Satellite Sisters in 2007 after a stint on live radio. Satellite Sisters, a talk show with her real life sisters Lian Dolan and Julie Dolan, has won 13 Gracie Allen Awards for Excellence in Women's Media from American Women in Media. Liz is the co-author of two books with her sisters. You're The Best: A Celebration of Friendship from Prospect Park Books is series of essays about the power of connection in our lives, both at work and in life. Satellite Sisters Uncommon Senses from Riverhead is a memoir. In addition, Liz has written for online publications such as Fortune.com and The Huffington Post. Liz is also a member of Oregon Sports Angels, a diverse team of sports industry + business professionals and investors building the next generation of sports companies. She's got opinions on most things. On Safe For Work, they are about how to build a work life that is positive and satisfying. Her personal motto is Stay Noisy.
break
RICO GAGLIANO is an audio host, producer, print reporter and author. He co-created, co-hosted and co-produced the pioneering arts-and-culture podcast THE DINNER PARTY DOWNLOAD, which was downloaded nearly 28 million times and heard by over 600,000 people a week on public radio stations across the USA. Rico's interviews for the show earned him a Southern California Journalism Award and a National Arts & Entertainment Journalism Award. He also reported for the public radio giant MARKETPLACE — filing stories from around the globe, as well as producing the show's popular "Marketplace Players" comedy sketches. Rico's print pieces appear regularly in THE WALL STREET JOURNAL, and he's the co-author of BRUNCH IS HELL (Little/Brown) a how-to guide for restoring civility by eschewing brunch and throwing dinner parties instead. He was spending way too much cash on vinyl records before it was cool.